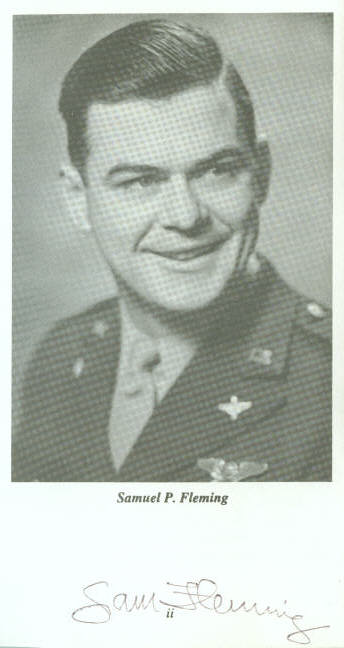 "Flying With the Hell's Angels" is the story of Dr. Sam Fleming and his experiences during World War II as a B-17 Flying Fortress Navigator, 303rd Bombardment Group(H) Eighth Air Force (1943-1944). Ed Y. Hall took Fleming's story and turned it into the book.
Many of Sam's friends suggested that he dictate a summary of his experiences during his tour of duty in the Army Air Corps during World War II, but it took him years to make the decision. Much of this book is based on notes from his small diary, his memory, military records, friends and input from crewmates. This book is his memoirs of the long experiences as a young navigator on one of the greatest war planes to ever fly against an enemy - the B-17 Flying Fortress.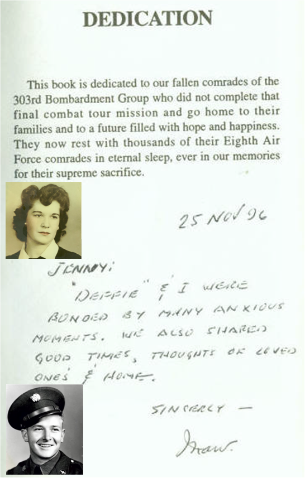 Dr. Sam Fleming evidently knew my grandfather, John Paul Deffinger, and included a note in his book that he gave to my grandmother, Genevieve Deffinger (Jenny). I've been told that my grandfather's nickname was "Deffie". ---Michelle Deffinger
Dr. Sam Fleming's quest began when he left Lanford Station to attend Furman University. After graduating from Furman, it was clear to Fleming that military service was inevitable. He had heard that the Army Air Corps had a special program providing medical training, the 22-year-old aspiring physician paid a visit to a Spartanburg recruiter. "That recruiting sergeant must have needed a few more bodies to make his quota," Fleming muses, "because he signed me up, assuring me that even though he'd never heard of the medical training program, that he was sure someone at my first duty assignment would be able to tell me all about it."
On Aug. 1, 1942, Fleming reported to active duty at Fort Jackson. When he left the military on Oct. 7, 1945, he was still looking for someone who knew something about that elusive medical program.
Fleming had kept a diary during his months in Fortress Europe, despite warnings that doing so was inadvisable, and his family and friends had often urged him to "decipher" the personal account so others could read it. Hall, a member of Wofford College's administrative staff, had already published an account of his own tour of duty as a military adviser in Vietnam, titled "Valley of the Shadow," and was immediately fascinated with Fleming's story.
"I was struck with the uniqueness of Sam's experience," he says of their first conversation. "He was flying at one of the most dangerous times of the air war. It was like Russian roulette every time he went up. He was spinning that cylinder with each mission." Although the memoir provides background, the narrative focuses on the three-month period from Jan. 29, 1944, to April 27, 1944, the 87 days in which his 10-man bomber crew completed 30 missions over the European theater of war. As part of the 303rd Bomb Group, dubbed "The Hells' Angels," the crew was based in Molesworth, England.
This 87-day period included the eight days known as Big Week, a round-the-clock air offensive against the German aviation industry. The aim was to knock the Luftwaffe (German Air Force) out of the air, giving Allied bombers free reign to destroy military targets.
Fleming remembers the campaign vividly. With losses high on both sides, the life of a bomber crew was estimated at 15 missions.
On one mission alone, 69 Allied bombers were shot down, each with a 10-man crew aboard. Three times Fleming returned to his barracks to find that his crew members were the only ones to make it back.
Even now, almost 50 years after the fact, he remembers the feeling of living from mission-to-mission.
"You got to where you didn't want to get to know anybody too well," he recalls. "If you made friends, it made it even harder to handle the losses."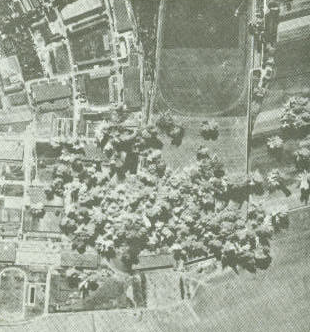 Precision Bombing At It's Best
But the common bond that danger and uncertainty forged proved to be a strong one for the young aviator and his fellow crew members. He says of the six surviving members of his original crew, "We're closer together than people I've known my whole life, and we didn't know each other but about nine months."
On his 26th mission, Fleming was hit in the right leg by a piece of flak. He received his Purple Heart in the mail in 1984. "It must have taken them that long to decide if I should have a Purple Heart or not," Fleming laughs. "Then again, it could have been mailed in 1944."
On fire, a brave B-17 Flying Fortress crew hold their position and bore into the target at all costs (Berlin, 6 March 1944)
When the young Lt. Fleming - in his mid-20s the "old man" of his group - arrived in England, an instructor told him that he'd never live through his 30 missions. The odds were that was an accurate prediction.
Reflecting on all the near-misses he experienced, he attributes his survival in part to luck, "being in the right place at the right time." But he also credits his survival to his dreams. "I had hopes and plans," he says. "I think that's what kept me stable in a situation that many others did not survive."
"Pneumonia Hill", Molesworth, England (home away from home)